Monday, October 18, 2004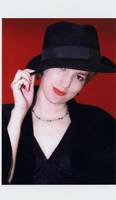 And again, The colors are off a bit, but overall pretty good. hc went a LOT better than i was expecting!
This would be T stalking me :) I dont think the colors are quite rightm since she messed w the background.
Saturday, October 16, 2004
Woohoo I actually had time to list stuff on ebay today! totally awesome, i know :) lol
You can check out me either on the sidebar or on ebay I'm midnightskyfibers


(If you are looking for pics of my yarn, they are in the archives.)

How I dye my yarns/fibers:
I dye in small quantities (mostly 4ounces or less) with food safe, vegetarian, and envi friendly dyes. I usually use a crock-pot to dye my fibers, but occasionally I will steam them as well.

Crock-pot dying:
1.) Take your fiber. It should be wool or another material that will dye with protein dyes. If it is yarn, make sure it is loosely tied in a skein, fiber can be loosely skeined or just piled in. Soak this fiber in either the crock-pot you will be using to dye the wool, or in another container. You want to let is soak for awhile (many people let theirs soak for an hour; I'm lazy, so I let mine soak for as much time as it takes for me to prepare the dyes, so maybe 10 minutes).
2.) Prepare the dyes: I like to use Wilson's cake dyes or kool-aid. Mix them in separate containers, and add a splash of vinegar (vinegar sets the dyes. And its environmentally friendly)
3.) If your wool isn't already in the crock-pot, carefully lift it in now, making sure to support all the mass of the fiber. Add a bit of water to the crock-pot, so the fiber floats around a bit, and you can easily "prod" it to distribute the dyes.
4.) Slowly add the dyes to the fiber. You can pour them directly onto the fiber, down the sides, whatever. Just make sure you lift the fiber up so that the dye gets to the bottom and is easily distributed.
5.) Once you have all the dyes poured on, add some more water so that it almost reaches the top. Turn on the crock-pot, and let it sit for an hour or two. Once as much of the dye has been absorbed as possible, turn off the crock-pot.
6.) (Many people say their wool felts if they rinse it with cold water (to get out the excess dyes- I've never had any problems with my wool getting felted because of temperature, only because of movement). Dump the contents of the CP into a sink, and rinse the wool carefully, using a bit of soap (dish soap is best) to get out any remaining dye, vinegar (more the smell of it!), etc.
7.) carefully get the water out of your fiber- you can spin it in a washer (no agitation!), roll it in a towel, etc. Let it dry in a place where it won't be disturbed too much. I use a sweater rack thing that you lay sweaters out on to dry (so they don't shrink). If im in a hurry, I will hang it off my ironing board so the air can reach both the top and bottom at the same time. If you have the wool in a skein you can just hang it from something as well.

So, then you ask: Crock-pot? Why? Well, its easy, I can store it in my craft cupboard(s), and it doesn't boil (which agitates the fiber and makes it set. Also, you can leave crock pots alone for an hour and the fiber will be ok, whereas with steaming etc you have to watch your fiber! That being said, make sure you use a cp that you don't use for food. I got mine for $1 at a garage sale, but you can almost always find them for under $5 at a thrift store.


Thursday, October 14, 2004
It seems like life has been overly busy of late. I've been sick and haven't slept more than a couple hours a night in the last week, so im having a really hard time concentrating on anything at school (especially physics).

speaking of school...
All my hw is always due on....Friday....so today is always really busy. And im in too much pain (b/c of mt wrists) to spin, which is what i do when I'm at home (and knit at school). I've been busy writing my college essay (or rather avoiding it, I HATE anythign that involves "polished" writing!), doing massive amounts of euro and physics homework, and teaching debate nonstop!

Debate
Debate will be interesting this year since there will bo NO ONE next year to teach ppl, past the junior debaters im teaching this year, who really know nothing. that being said, it looks like i will not be debating much, if at all this year bc i feel i have an obligation to teach/prepare them for this year and the next- which is not helped by their inability to focus. debate has always been a family informal affair at my school- you do the work when you have time, prep yourself out, etc. But that assumed that the people actually KNEW what was going on! It is going to be a LONG year. *sighs*

crafts of the day:
I sent off a couple of trades (yarn related as usual!) to some awesome people yesterday, and i got to learn how to use an airbrush...which is the devil incarnate of things that involve paint....though i did get to paint my arm bright green and pink. I havent been doing much knitting, since i keep forgetting to grab yarn on my way out the door in the morning! how sad :(

At school, my teacher (who is somewhat conservative) is hanging up my picture at school. She's putting it somewhere the principal/admin people will be sure to see it O.o and im pretty sure she gets how...dangerous....that could be seeing as how it has a GIANT SHACKLE ON IT, chains, and the quote, "When the masochist says, "whip me" the sadist says, "no". Now, thats a vanilla phrase by itself...but with the shackle and chains, not to mention the coloring etc of the painting....im not sure its the best thing [the principal] should be seeing. Ill refrain from making comments on what i think of the principal, only bc i know T respects him highly, and knew high back in C, but still.


yea yea im done.

and the juniors are running genocide. and the novi want me to teach them! ummm no, they need to leatn to read first.


Wednesday, October 13, 2004
Tuesday, October 12, 2004
Monday, October 04, 2004
So i never had heard back from rc, so yea these yars are either up for trade or i will be selling some of these on ebay. (im
midnightskyfibers
and hopefully ill be listing some things in the very near future...i just fig out my paypal account so now im using this instead of my my dad's :))
Ok so here are the yardage/content/wpi/etc of the fibers that i have pics of up right now :) lol but you have to match them up yourselves...ok so this is ordered by:# available, name, content, wpi, yards, weight (ounces), ply, description:
1 Pink Funky Fringe
Wool, recycled Silk Bulky 78 2.1 single This yarn is a medium pink textured yarn spun with strips of silk that produce a funky eyelash effect. Thick and thin with over-twisted portions that will produce a wonderful purse, scarf, hat, or whatever you can imagine!
1 Sea Monster I
wool and Superwash wool 15; Sport 197 2 single Shredded superwash wool in bright colors including orange, blue, red, and purple that hs been blended with a bright green wool.
1 Dessert watermelon
wool, mohair 14, sport 140 1.5 single Very fuzzy due to the bright yellow mohair, this pink and black yarn has a slightly sandy appearance.
1 Bulky Sea
Columbian Wool Bulky 202 2.25 thick and thin single Going from uber thick to lace weight thin, Bulky Sea is in light, ocean turquoise and purple. When thick and thin yarn is knit up on large needles, is produces a bumpy surface.
1 Poodle
wool, cotton, rommey, nylon sparkle 11; worsted 67 0.5 single Poodle is a highly textured yarn that will produce a slightly bumpy black and white piece with a bit of shine because of the nylon sparkle!
1 Black Pearl
Wool, nylon sparkle, firestar, mohair, cotton, beads sock 82 1.8 corespun Black wool, yellow mohair, nylon sparkle, and golden firestar are corespun onto a variegated white and blue core strung with beads in blue, black, and giant pearls.
1 Pink Flash
cotton, wool, firestar, mohair sock 134 1.7 corespun Hot pink core surrounded by black wool, bright yellow firestar, and mohair produce a lovely shiny yarn.
1 Poodle II
wool, firestar, mohair, nylon, etc worsted 64 0.5 single Black wool with bits of golden yellow mohair and pale magenta blended to produce a glittery yarn.
1 Corespun Warms
wool, cotton sport 87 1 corespun Bright red, orange, and yellow wool spun around a thin white core to add strength and make the yarn look like a 2-ply. Should knit up to be a semi-stripped yarn.
1 yellow/pink single
100% wool 17; sock/lace 60 0.25 single Highly textured bright pink, orange, and yellow overtwisted single. still has twist for texture
1 blue/purple single
100% single 17 sock/lace 89 0.5 single Bright Blue yarn with royal purple and a touch of turquise that is overspun and slightly thick and thin. still has twist for texture
1 Seabed
wool, firestar, merino, etc worsted 162 2 single Green and turquoise wool has been blended with magenta wool, purple merino, and yellow firestar. Looks a bit like the yarns spun from saris.
1 Seaweed
wool, firestar worsted 150 1.8 single Apple green and turquise wool blended with a large amount of sparkely yellow firestar.
1 pink gooblygook
wool, cotton, nylon, mohair sport 110 1 corespun Apple green, sky blue, baby pink, and royal purple wool mixed with yellow mohair and sparkly nylon all spun around a variegated pink and white cotton core.
1 white gooblygook
wool, cotton, nylon, mohair sport 102 1 coresupn Apple green, sky blue, baby pink, and royal purple wool mixed with yellow mohair and sparkly nylon all spun around a white cotton core.
3 Pumpkin
wool 16;sock 100 1 single Dusty orange, magenta, black, feltable
3 Pumpkin Sunrise
wool 13, sport 100 1 single Bright orange, pale pink, and a touch of yellow dyed to produce a yarn with short segments of color.
2 Pink Sunrise
wool 14;sport 100 1.2 single Pink with a touch of yellow. Wool is shiny and fuzzy.
5 Triple Berry
wool 16;sock 50 0.25 single A very pale turquise and light purple were added to a crockpot containing the yarn to produce a dusty, berry-and-vine appearance.
4 SeaBerries
wool 15;sock 100 0.25 single Dark turquise and a dark royal purple produce a stripped/spotted effect.
Have fun reading through all that! (and
glccafar
i wont list anythign to ebay till you make your picks for trades and what not :) hehe)