Tuesday, January 18, 2005
Sunday, January 09, 2005
Wednesday, January 05, 2005
Oh the scandal…

…Of not updating my blog. But for the record I've been busy and sick for the last two weeks. Mostly sick. Yea I know, not an excuse but hey, it works.

Vacation:
Was great. Key word there is was. It needs to snow again so I can have another day or two off from school- even the teachers are praying for snow (some just got subs to come in instead!). Christmas was pretty droll, but I did get some pretty silk noil/merino fiber to spin (no way im selling that), Angelina, yarn to add to my stash, and a bulky whorl and flyer for my wheel (since the whorl broke on my old jumbo one.) I also had time to spin a bunch of stock for my sales, which I will eventually be adding to an ebay store. This also means that I need to order more fiber- and the question is- wool or merino?

Speaking of ebay
I only need 2 more feedback before I can open the store! Yes! You see, I considered building my own website, and even got a domain and all that, had some layouts done, etc. Then I realized I really didn't have the time that a promo for the website, which is what I would need to make the website successful. So ebay it is.


Thursday, December 16, 2004
Sunday, December 12, 2004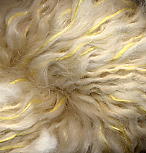 bloopp. these are all some of my recent additions to ebay. sinc im lazy, you can go check out ebay (side bar) to see the fibers info. and since im lazy thats also all you get about my last 2 weeks (past the eww they drew 5 vials of blood last week. what could they posisbly need that must blood for? are they vampires?